Feb, 22, 2012
How to Safely Increase Your Box Jumps Without Getting Get Injured
Safely Increase Your Box Jumps Without Getting Injured
Safely increase your box jumps without getting injured.  In this post I've got a cool video where I show you 3 critical elements you need to know to safely increase your box jumps without getting injured.
How to Safely Increase Your Box Jumps and NOT Get Injured: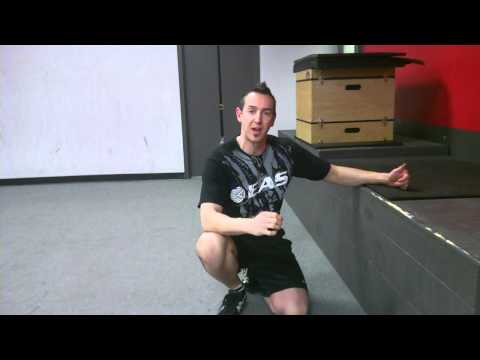 To recap the video, the three things you need to do to safely increase your box jumps without getting injured are:
1. Hip height and hip mobility.
When you box jump, take notice of how high your hips are when you land.  If your hips are barely above your ankles as in you're nearly sitting on your feet, chances are you're not ready to safely increase your box jumps.  However, if you notice that you're able to land with your hips 6-12 inches above your feet, then you're developing enough force to box jump a little higher.
The next issue when trying to safely increase your box jumps height is whether or not you have sufficient hip mobility and flexibility in the muscle groups required to pull your legs and feet up higher to land a higher box jump.  If you can stand on one foot and without your hands pull your thigh of the free leg up past parallel to the ground and hold it there for 15 seconds, then you have at least sufficient hip flexor strength.  Next if you can pull your knee with your hands all the way up to or close to your chest without your support leg knee bending or your back hunching over, then you can safely increase your box jumps height.
2. Foot position on the floor.
To safely increase your box jumps height, another important element is making sure you get a solid drive off the ground.  Start your box jump with a strong dip on flat feet.  An all to common mistake is to rise up onto the balls of the foot before the dip and drive into the floor with the feet.  This causes the calf muscles to act as a sponge, absorbing some of the force we ideally want to transfer directly into the floor.  In a very well trained athlete, through a plyometric effect, this would actually help increase the box jump height, but it is important to realize that most people will lessen their box jump height by doing this because they will not develop sufficient force with their hips and legs.  Getting maximum force production through the glutes, hips, quads, and hamstrings and delivering that force into the floor is what is MOST important for training to safely increase box jump height.
3. Maximize upper body momentum with the arms.
To safely increase box jumps height you have to ensure you're generating the maximum amount of momentum possible.  This is achieved with a powerful arm swing initiated as part of the downward dip and then followed through with the subsequent drive from the legs and hips.  The safety point is to make sure the arm swing follows an arc that does not connect the hands with the box itself.  My sister was doing our bootcamp a couple months back and she smashed her hand on the box and a couple of her knuckles are still not healed properly.  So be aggressive with your arm swing, but be conscious of HOW you swing them.
A fourth thing not mentioned in this video because I covered it in my previous article on Box Jumps, is to increase lower body strength.  Stronger muscles can produce more force, which is obviously critical to improving your box jump.  I didn't cover it in the video because the video was in response to someone's comment on the first post on box jumps in which the reader had hurt her leg during a box jump.  So this video was more to address how to safely increase your box jumps without getting hurt.
So work on this stuff and you'll safely increase your box jumps height without getting injured.
I'd love to hear your comments, so please leave them in the comment box below.  I get a ton of comments from my posts by email, and I really appreciate them, but it would be very helpful to everyone if people would comment ON the blog in the comment section as others will benefit from hearing what you have to say and potentially my response.  Thanks!  :)
Work on these three things and you'll soon find your box jump
Posted in Training Center by admin | 2,113 Comments