Jan, 27, 2012
Explosive Strength Training For Hockey Players – Box Jumps
Box Jumps Explosive Strength Training For Hockey Players
Explosive Strength Training For Hockey Players – Box Jumps
Explosive Strength Training For MMA Athletes Box Jumps In this article I'm going to cover some very important aspects of box jumps that will help you both improve your performance in the box jump and thus get more out of them in terms of their carry-over to MMA and other sports such as hockey, wrestling, football, etc…
Box Jump Set-Up
Always start with a relatively low box, one that you know you can jump on successfully.  Even though it may not feel like it's much of a challenge, starting low and gradually working higher will bring your nervous system up to speed slowly and prepare you for higher boxes on successive attempts.
Stand in front of the box and depending on the height, assess your distance.  Common mistakes include either starting too far back or too close.  Either one can cause you to catch your foot on the lip of the box and leave you with a pretty nasty bruise and/or cut on the front of your shin.
Common approaches are either standing with two feet planted and then jumping, or doing a walk-up before the jump.  The walk-up gives a bit of forward momentum going into the jump.  Some prefer this, while others don't.
In my own box jump training, at most I've taken a tiny step into planting both feet before jumping, but never a big walk-up.
How To Jump Higher
How high you can jump depends on the following factors:
1. Ensure a good set-up
2. How much force you can develop with your jumping muscles
3. Your hip and leg flexibility and mobility
4. Your athletic ability
How much force you can develop depends on how strong you are and how "amped" up you can get for your box jump attempt.  Strength training with exercises like squats, step-ups, hip thrusts, glute bridges, glute & ham raises and deadlifts will help your muscles develop the strength required to jump higher.
One common mistake I see frequently is not enough leg drive into the ground before the jump.  What tends to happen is people initiate the movement by lifting their heels off the ground and then they spring off their toes without getting much drive from the hips.  Good drive from the hips will usually start with feet flat on the ground and a good drop in the hips will occur before the jump.
Mobility and flexibility are critical for box jump height, as a maximum height jump will result in a landing with both hips and knees in deep flexion, a position only possible with sufficient hip mobility and flexibility.
Finally, with regards to athletic ability, the use of momentum is required for jumping, and the amount of arm movement is often over-looked it terms of importance in providing momentum for helping with box jump height.
A hockey player or mma athlete who attempts a box jump without sufficient use of their arms will not jump as high as the athlete that instinctively engages a powerful arm swing entering and following through the jump.
The picture at the top of this article shows clearly the heavy involvement of the arms in a high box jump.
Serious Box Jump Action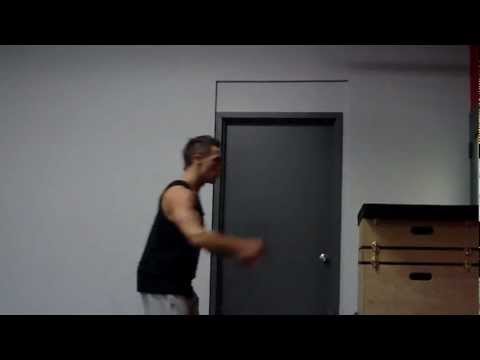 Box Jump Programming Considerations
Box jumps are becoming a popular exercise for not only athletic training, but also in exercise bootcamps (including the PhysXtreme Bootcamp!), but how you jump based on the programming is important to avoid injury and maximize performance.
When box jumps are used at the beginning of an exercise program, the hockey player, mma athlete, or bootcamper is fresh and not suffering from a heavy dose of accumulated fatigue.  At this point, the participant can attempt to jump as high as possible, and possibly even try to jump higher and set a personal record (PR).  The chance of injury is always there, but it is less because the muscles are fresh.  In contrast, if box jumps are prescribed at the end of a workout when the athlete is fatigued, we're not usually looking for jumps to be of maximum height, and we're certainly not looking for PR's.  So make sure your desire for height takes into consideration your level of fatigue.
Normally when we put box jumps at the beginning of the workout, we look for sets of 3-6 reps.  This rep range can usually done with maximum force output and very little drop-off in power output.  If we use box jumps midway through or at the end of the program, we're looking to train power endurance, and box height should be adjusted to reflect the athlete's level of fatigue.
Safety Considerations
Box jump safety starts with taking stock of your fatigue level going into the jumps.  If you're heavily fatigued, this is NOT the time to be trying to set any records.  Step-in, adjust your distance if necessary, and ensure you get a good arm swing as you jump.  Your set-up is key to safety.  If you're not sure, ask for help from a qualified coach.
When Box Jumps Go Bad
Immediately After Crash Landing                                                        One Week Later
Click this link to learn how to safely increase your box jumps height.
Sample Lower Body Strength Training Program
1A) Box Jumps 3×6
1B) Box Squats 3×5
2A) High Box Step-ups 3×8
2B) Glute & Ham Raises 3×8
3A) Cossack Squats 3×10
3B) 1-Leg RDL 3×12
4A) Grappler 3×15
4B) Farmer's walk 3×100′
If you have any comments please leave them in the comments box below.
Posted in Athletic Development, hip mobility, lower body strength, lower body strength training workout, Strength Training, Training Center, Training For Hockey, Training For MMA by admin | 2,673 Comments