Nov, 25, 2011
A Pushup Clinic By The PhysXtreme Chicks! | Pushups for Core Strength
A Clinic on Pushups For Core Strength By The PhysXtreme Chicks!
Want to get into rockin' shape?  Better get comfortable with doing pushups for core strength.
Many people seem to hate pushups.  They avoid them at all costs.
But I swear in our bootcamp program if we don't have them in the program in a particular week, I'll find some of our PhysXtremists off in the corner doing pushups for core strength during the warm-up.
Why would they do this you ask?  As a bodyweight exercise that actually requires some coordination, practicing pushups frequently (even daily) can really skyrocket how quickly you improve at them.
Truth is, there are few exercises that give you such a bang for your buck.  At the basic level they'll help anyone who works on them build some decent core strength.  Then with some simple tweaks which really turn up the requirement for stabilization they can be turned into a crazy core strength exercise.
Other than doing pushups for core strength, they build the obvious chest, shoulder, and triceps strength, but what's less known is that they're superb for keeping the upper back and shoulder musculature strong and healthy.
At PhysXtreme we do pushups for core strength and many of their variations are a huge part of our programs.  And for you girls who don't think you can do pushups, check out some of our girls rocking them out in style!
Pushups for Core Strength at PhysXtreme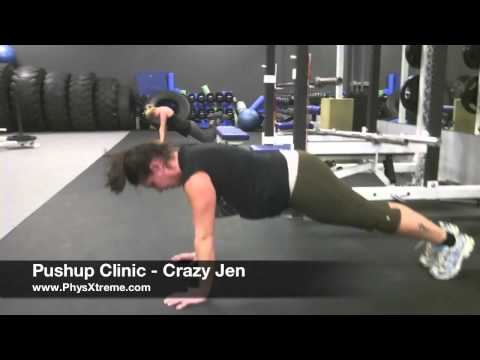 Technique for Pushups for Core Strength
1. Start lying face down
2. Place hands at sides with elbows touching side of body
3. Hand placement should be such that your chest touches the floor between your hands.
4. Keep a neutral (natural) arch in low back.
5. Contract glutes and brace abs to maintain neutral arch.
Many people mess up their shoulders with pushups.  This is due to faulty mechanics at the shoulder.
All too often we'll see people with far too weak low and mid traps trying to do pushups on a flat surface.  The pec minor over-compensates attempting to stabilize the shoulder when the low- and mid-traps are too weak.  This pulls the shoulder forwards and into too much internal rotation.  Depending on a persons sub-acromial space this can lead to impingement and a lot of (eventually) pain.
I tell people to think of relaxing at the chest, and squeeze their shoulder blades together and down.  Of course the pec major is involved in doing pushups, so it will NOT relax.. but the idea is to relax the pec minor enough to allow the low- and mid-traps to effectively stabilize the scapula to the spine and ribcage in the back.
With a powerful pec minor contraction, the low traps are usually inhibited.
If you're doing pushups for core strength and your low- and mid-traps are too weak, do your pushups on an incline, with enough of an incline to allow for proper shoulder mechanics.
If you can't do them on the floor from your toes, don't do them from your knees.  This is a big (and way too common) mistake.  While it does lessen the load and often allow proper shoulder mechanics, it removes the core involvement, essentially creating an exercise that will guaranteed keep your from ever doing proper pushups from the floor.
Additionally, if there is sufficient low- and mid-trap strength but the movement pattern still favors pec minor stabilization of the scapula, moving into a feet elevated pushup or a hindu or dive bomber pushup can help to get the serratus anterior firing properly.  The serratus anterior is another muscle that stabilizes the shoulder blade helping to anchor and control movement as it articulates across the ribcage.  Even doing a bit of a handstand and working on even the most shallow of handstand pushup reps will aid with pushups for core strength.
Do you love pushups or hate 'em?  Let me know below!
Posted in Training Center by admin | 1,179 Comments